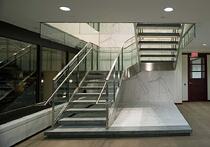 COMSTOCK PARK — "There are a lot of local people who really don't know what we are all about here," said Tim Couturier, one of the principals of family-owned Couturier Iron Craft Inc., located on West River Drive for 40 years.
While it may not be a household name in West Michigan, CICI is well known at architectural firms across the United States. An untold number of people — including a lot of Grand Rapidians — have used the stairways made and installed by Couturier over the years.
Couturier Iron Craft built this staircase for the Overture Center for the Arts, a $210 million, 400,000-square-foot performance and visual arts center in Madison, Wisc. Designed by Cesar Pelli, it occupies an entire city block.
The company, founded by Richard Couturier Sr. in 1968 and now managed by five of his sons, specializes in architectural and ornamental metal fabrications, especially the high-end, curved "monumental" stairways one sees in expensive corporate headquarters, hotels, casinos, and other public buildings ranging from airport terminals to universities to performing arts centers. The elaborate stairways are found in buildings throughout the Central and Eastern U.S.
"We are a single source fabricator," said Tim Couturier. "We design, detail, engineer, fabricate and install."
The company also makes and installs architectural metal products that include column covers, domes, trellises, fascias, towers, medallions, benches, light fixtures and other custom-designed products.
At the heart of its expertise are the monumental stairways: "Anything curved, unique, complex. The more complex the fabrication, the more we'll go after (the job)," said Couturier. The stairways are completed at CICI's 40,000-square-foot plant, then disassembled and shipped to the building site, where CICI employees complete the installation.
"We are self-contained here," he said. "We have our own polishing (equipment), shears, forming, rolling, water jet (metal cutting machine) …"
In mid-March at a ceremony in Washington, D.C., CICI was presented with the 2008 Craftsmanship Award in the ornamental metals category by the Washington Building Congress, a 900-member trade association of companies and individuals in the commercial real estate, design and construction industries that are active in the greater Washington, D.C., region. CICI was honored for the stairway it built and installed in the D.C. world headquarters of Kirkland & Ellis, a global law firm with offices around the world.
"It was completely made of stainless steel — no steel understructure — and every bit of it polished," said Couturier.
The big challenge in the Kirkland & Ellis stairway was the time allowed to build and install it, which was about three months. Another company originally had the contract, said Couturier, but "at the last minute, the other fabricator bailed out. He couldn't figure it out."
The CICI installation expertise is also significant.
"We've done jobs in New York where we've stuck these things through a 40- or 50-story building at 2 in the morning," said Couturier. In a congested area like mid-town Manhattan, they often have to work in the middle of the night, because bringing in the stairway may block the street.
There are only a handful of companies around the U.S. that can compete with CICI on the major high-end projects, said Couturier. It has built monumental stairways for large homes, such as the owner of Papa John's Pizza in Louisville, Ky. But mostly the stairways are designed and built for large buildings — such as the corporate headquarters of Papa John's Pizza. Other corporate projects, to name just a few, include Ford Motor Co. in Detroit, Haworth in Holland, and Cessna Aircraft in Wichita, Kan. The firm has built stairways for the U.S. Navy in Norfolk, Va., Henry Ford Hospital in Detroit, the University of Michigan, Western Michigan University, the Children's Museum of Grand Rapids, the new JW Marriott hotel in Grand Rapids, and a slew of casinos, including Soaring Eagle in Mount Pleasant. CICI is also involved now in the new construction at the Gerald R. Ford International Airport.
Perhaps its most impressive project was the Overture Center for the Arts, a 400,000-square-foot performance and visual arts center completed in 2006 in downtown Madison, Wisc. Designed by Cesar Pelli, it occupies an entire city block and cost more than $210 million. According to a publication of the University of Wisconsin, one of the "three iconic elements of the center" is its "glass" staircase. Tom Couturier, vice president of operations, said the project "was very high-end," actually involving three stairways, and some of the granite treads on the stairs "look like they are suspended in air."
"We get specified (by architectural firms) on projects around the country," said Tim. Although the company is 40 years old this year, its monumental stairway business really took off about 30 years ago. "Throughout the years, we found a niche that there weren't a lot of people involved in," he said. "As we grew, it pulled us away from Grand Rapids."
The brothers are constantly on the road throughout the U.S., whether to visit installations in progress or to bid on new projects. Tom, at 59 the eldest of Richard Couturier Sr.'s sons, said jokingly, "We just slip in and out of Grand Rapids, unnoticed."
But the end result does not go unnoticed. In fact, within the world of high-end architecture, monumental stairways are supposed to attract notice. The high-end stairways range in price from $200,000 to $750,000, said Tim. Annual sales for the privately held, family-managed company are now about $7 million to $8 million a year, and the company employs 40 to 45 people, according to Tim.
While the economy in West Michigan has some local companies hungrily looking for business, CICI currently has "the largest backlog (of orders) we've ever had in the history of our company," said Tim. That may be due to the fact that CICI's market is not just in Michigan.
Couturier Iron Craft began with a forge Richard Couturier Sr. built in his garage in Belmont. He and his wife, Donna, had 10 children, and he liked to build wrought iron railings for homes in his spare time, to augment the income from his day job. The Couturiers took the plunge in 1968 when he rented a building on West River Drive and started his one-man company — assisted by his teenage sons when they weren't in school.
Today, at 82, he is semi-retired and five of his sons are at CICI: Tom, Tim, Dan, Rich and Dave.
"They are very busy," Richard Sr. said of his sons.