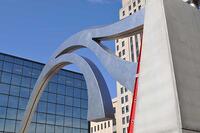 The work of Couturier Iron Craft, Inc is featured at the new Battle Creek Streetscape project contracted through Hoffman Bros. Inc. Excavating Contractors. The two arched pieces are 60 feet long, 15 feet high and weighs 7,000 pounds. Given the unofficial name "the wave," the artwork fits into the water theme of the Battle Creek downtown area located between the Kalamazoo and Battle Creek rivers. The "Wave" is fabricated entirely of stainless steel which consists of an internal supporting structure, and a fully welded exterior with an "angel hair finish".
Project manager Kurt Tribbett agrees, crediting the metal fabrication company for keeping the project on schedule and avoiding cost overruns by quickly coming up with solutions along the way. "They catch that vision and try to make it look like what the architect imagined," said Tribbett, project engineer for the city of Battle Creek.
Landscape architect Kerri Bennett, with Integrated Architecture, who designed the piece, is just as pleased with the results: "They did an incredible job." Glass will soon be added the sculpture, which is expected to be wrapped up by the end of the summer.
It's a whole collaboration in the shop in the field; a lot of people had their hands on it.