The term metal railings sounds a bit dull, doesn't it? When it comes to designing stairways, balconies, and other architectural elements that require metal railings, custom designs are often a far better choice than pre-packaged railing systems. Why limit your options and even those of your client when there are other more unique, distinct options available?

Whether for an executive business center, hospital, museum, college, airport, or even private residence, custom metal railings make it possible to achieve far better results in terms of design, style, and appeal. Of course railings are used for a purpose (usually for safety), but they certainly don't have to have a utilitarian look.

What are the pros and cons of custom metal railings versus those systems that are pre-packaged?
More design options. We already mentioned that having your rails custom designed gives you far more options in terms of visual appeal. With pre-packaged railings you are extremely limited - and it isn't always possible to achieve a uniform look so that the design flows seamlessly. With customized options, any decor scheme can be accomplished beautifully - and most importantly, to the satisfaction of the customer.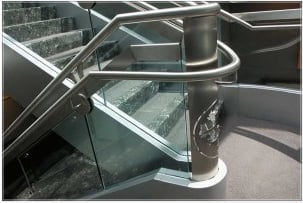 A perfect fit. With pre-packaged railings, you can't always get the precise length that you need for a project. This means that you either have to cut off a section to fit, or buy an extra package if you're short a few feet. It seems that in many cases, the pre-production environment and the actual production environment often don't meet eye-to-eye on the needs of certain industries!
Unsurpassed workmanship and durability. Staircase railings designed to your custom needs are not only more visually appealing, but of the highest quality as well. Throughout the manufacturing process the focus is always on durable, top-notch products that surpass industry standards, providing architects, designers, and others with solutions that go far beyond what can be found in goods that are pre-packaged.
The various types of decorative metal railing make it possible for you to achieve superior results, whether you are an architect, designer, contractor, or even homeowner who prefers a more customized look, rather than the one-size-fits-all look so many pre-packaged railings have to offer.
Quality of Installation. Most custom rail systems are installed by the manufacturer. An ownership attitude is more prevalent in this case. A quality custom rail manufacturer provides you with more personal contact to resolve unforeseen issues. Industry-leading custom rail fabricators provide an expert team, including onsite representatives to take field measurements. They provide unmatched levels of customer service. You are conversing with a person that has been on site and knows the real conditions. You can be assured you are meeting required specifications loading not only with the rail, but also with joining materials that the railing attaches to. A quality custom rail manufacturer knows what works and what does not. They are not just interpeting attachments to a structure shown on architectural documents.
Aluminum, steel, metal, stainless steel, iron, even glazed decorative metal - when it comes to architect and design, why limit yourself and your creativity? Learn more about custom metal railings, and how even those things that often go unnoticed such as staircase railings can add a distinctive touch to any project, making it stand apart from the ordinary.