Metal railings require as much thought and careful choosing as any other design element. If your space doesn't seem to look its best, consider how your railings might be affecting aesthetics and function.
People can tell that your railing was installed a long time ago.
Your metal railing should look either perfectly in line with your architectural and design style, or they can be a forward-thinking choice you have made. In any event, they should not be obviously outdated or clashing with surroundings.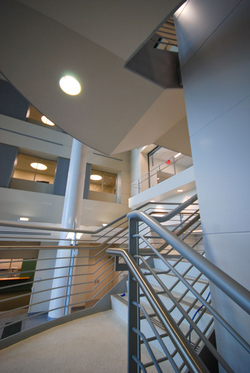 Building owners and property managers are well aware that the quality of appearance of a property can be greatly affected by the color and finish of doorknobs, cabinet pulls, lighting, and other fixtures. The must-have of one era can rapidly become a glaring sign of yesterday. Metal railings are no exception to this rule, in terms of the best design.
If you have updated your furniture, art, flooring and other such surroundings since your metal railing was installed, chances are that the railing no longer suits the space
Your railings are showing use and wear faster than expected..

.
Whether decorative or minimalist, metal railing should be prepared to function and fit in with décor for today and tomorrow.
Not all metal railings are equally suited for indoor and outdoor use. Shoddy construction can lead to premature wear and a poor appearance. Are you sure that your railings are the best choice for your specific use?
Quality materials and quality construction lead to much longer life for your railings. The last thing you should be worried about regarding your railings is whether they will stand the test of time. Premium metals and expert craftsmanship should leave you with custom rails that will be in your building longer than you will.
You feel the need to distract the eye from your railings.
People often think of metal railing as a matter of function, but the form can be just as important. If you feel like you need to make extraordinary effort to decorate your walls or spaces in a way to hide or distract from your railings, you could do better by installing upated railings.
Custom railings not only look best because they are sized and installed perfectly for your building, but they give you style options as well. If you are going custom, you might as well make it perfect: match the finish, mounting, and infill panels with other fixtures in the building, for example.
Perhaps there is a design option available that goes above and beyond and adds the consummate touch of class to your building. Perhaps you would prefer it if the railing simply blended seamlessly into the scenery. You can make either of these things happen.
An expertly chosen metal railing will complement and enhance its surroundings. The best railings inform the space and work with it naturally.
You worry about your building meeting code.
Commercial railings have to meet certain weight bearing requirements as well as height and spacing codes. If you are unsure whether the railings in your building match your local laws, you should consult with a professional to be sure. Assumptions can lead to unintended errors.
In addition, poor installation by an inexperienced contractor can lead to weakness in the overall railing system. The railing is only as strong as the attachment point with the rest of the structure.