From aluminum to iron and stainless steel, railings can be made using a variety of mediums.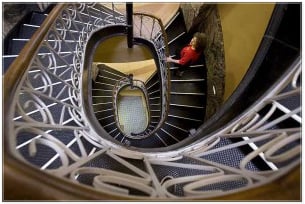 Depending on your property's unique style, you may find one or the other of these metals to be the perfect addition to compliment your decor. By using masterful manipulation during railing fabrication, decorative metals can either subtly or dramatically establish your personal style within.
Decorative Metal Comparison
Whichever decorative metal you choose, allow our expert designers and fabricators to build your custom railing system to your specifications. Please contact the experts with Couturier Iron Craft for more information.
Stainless Steel Railings: Whether going for a striking or delicate look, stainless steel offers endless design options to the consumer. Easy to work with an manipulate, the fabricator can develop classic, abstract, modern, or more decorative railings using stainless. This type of steel railing is truly timeless; some stainless railing systems have easily lasted over a hundred years. These railings are strong and durable; natural high tensile strength of stainless can handle heavy weight and high impact situations without warp or give. Though these railings are very low maintenance, they can be cleaned using specially designed chemical solutions which leave them looking brand new after years of continual use.
Aluminum Railings: Aluminum is widely used in areas where durability and strength are high priority. Due to the ability for aluminum to easily bond with paint, aluminum railings will not require much maintenance. If an unpainted look is more your style, aluminum possesses the ability to form an invisible oxidation which allows its natural beauty to endure without corrosion over long periods of time. Unlike wood or other composite materials that can rot or deteriorate over time, aluminum maintains its integral strength for ensured safety year after year. When creating an intricate railing system, fabricators can easily manipulate aluminum by casting it using dies made to the customer's unique specifications.
Iron Railings: These railings offer the consumer elegance and class like no other. Though designs can appear delicate and fragile, make no mistake; these railings are durable and can remain intact for over a century. Besides minor refinishing, iron requires little maintenance and is perfect for indoor and outdoor applications. Finishes for iron come in many varieties, examples include paint or patina.