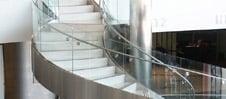 When designing a project, architects often contemplate what architectural focal points will drive it home for the potential buyer. When choosing the right stair arrangement, a spiral staircase
can add a classic or contemporary draw depending on the design. Nothing says dramatic like an creatively elegant staircase.
Beyond sheer beauty, spiral staircases have much more to offer than standard style stairs. Spiral staircase designs are fundamentally flexible; a room can be built around them or accented subtly by them. The structure of these staircases is fully customizable as well, the design, type of materials used, and where the staircase is placed can all be easily worked into the architectural layout. With standard staircase, the developer is limited by space, location, material, and construction design.
If space is an issue, a spiral staircase lends itself as a more feasible option. When faced with limited space and a need for access to an ascending floor plan, normally the architectural design will require significant alterations to accommodate a traditional staircase. Spiral staircases can take up as little or as much space as needed, layout of the staircase depends solely on the dimensions you choose for the design.
You may also choose to assemble the staircase using several types of materials, such as wood, metal, glass, or cabling. For a more industrial design, you may decide to go with a mixture of glass and metal. For more traditional, ornate designs one may choose iron railings coupled with dark wood stair inlays. You are limited only by your personal taste when designing a spiral staircase for your project.
If you are considering a spiral staircase for your property, please contact the professionals with Couturier Iron Craft. With over 45 years of broad custom experience in spiral staircase design, rest assured they have the creativity and ability to surpass your current project expectations.